Fort Assiniboine School Week at a Glance Oct. 21-25, 2019
***Drive Away Hunger Campaign Oct. 21-24 – Students bring in donations for the Food Bank; Collection Bins at front entrance labelled for each Bear House; Weigh-in Thurs. Oct. 24 at 8:30 am
***Book Fair Oct. 21-24 – thank you Mrs. Davison for booking this awesome event every year.
Mon. Oct. 21 – Federal Election today
Sr. Girls Volleyball practice afterschool today 4:15-5:30

Students Union Meeting
Tues. Oct. 22
Wed. Oct. 23 
Gr. 3&4 Polar Bear VC 11:30 – 12:15

Jr. & Sr. Volleyball Teams away at Neerlandia (depart at 2:45)
Thurs. Oct. 24 
Crush Bullying presentation at assembly and pop sales 
Friday, Oct. 25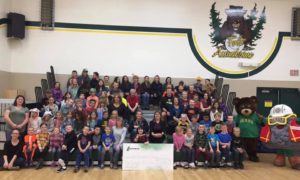 We continue to celebrate Thanksgiving – today the school received a donation from LaFarge for $5600!
Company representatives Mr. Bill Gowdy and mascot Rocky presented a cheque today to Principal Lorna Hiemstra and our Bear mascot.
Next Week & Beyond:
Mon. Oct. 28 – Sr. Girls Volleyball Practice Afterschool 4:15 – 5:30
Tues. Oct. 29 –  Sr. Girls play at St. Mary at 5:15
Wed. Oct. 30 – Jr. Volleyball plays at St. Mary 
Thurs. Oct. 31 – Halloween Activities in the afternoon; Pumpkin walk in evening
Fri. Nov. 1 – Teacher Operational Day NO School for Students
Mon. Nov. 4 –  Sr. Girls Volleyball practice afterschool
Tues. Nov. 5 – Jr. Volleyball teams away at PHRD tournament all day (Westlock Spirit Center)
Thurs. Nov. 7 – Whole School Remembrance Day Assembly 10:45
Tues. Nov. 12 – Picture Retakes
Wed. Nov. 13 – Sr. Girls Volleyball Practice afterschool
Thurs. Nov. 14 – Sr. Girls Volleyball Tournament @ Westlock Spirit Center all day 
Fri. Nov. 15 –  Elementary Volleyball at Dunstable (pm)
Tues. Nov. 19 – K-2 Field Trip to Telus World of Science
Wed. Nov. 20 – Elementary Volleyball home vs. Swan Hills (2-3:45)
Fri. Nov. 22 – PHRD PD Day at BCHS
Thurs. Nov. 28 – Elementary Volleyball Tournament at Westlock Spirit Center
Tues. Dec. 3 – Kindergarten visit Seniors at Friendship Center
Thurs. Dec. 12 – Christmas Concert